HOW WE BUILT A 6 FIGURE INCOME THROUGH SOCIAL MEDIA IN ONLY 12 MONTHS
Over 5 billion Google searches are made every day, AND the average social media usage is over 2 hours per day.
What if you knew how to harness this power to make money 24/7?
What if instead of consuming content, you were the one creating it and leveraging it to make money?
What if you didn't have to trade your time for money and you could finally quit your 9-5?
We're unveiling it all.
All you have to do is show up and do the work.
WHAT'S INSIDE…
the best resource available for creating passive income online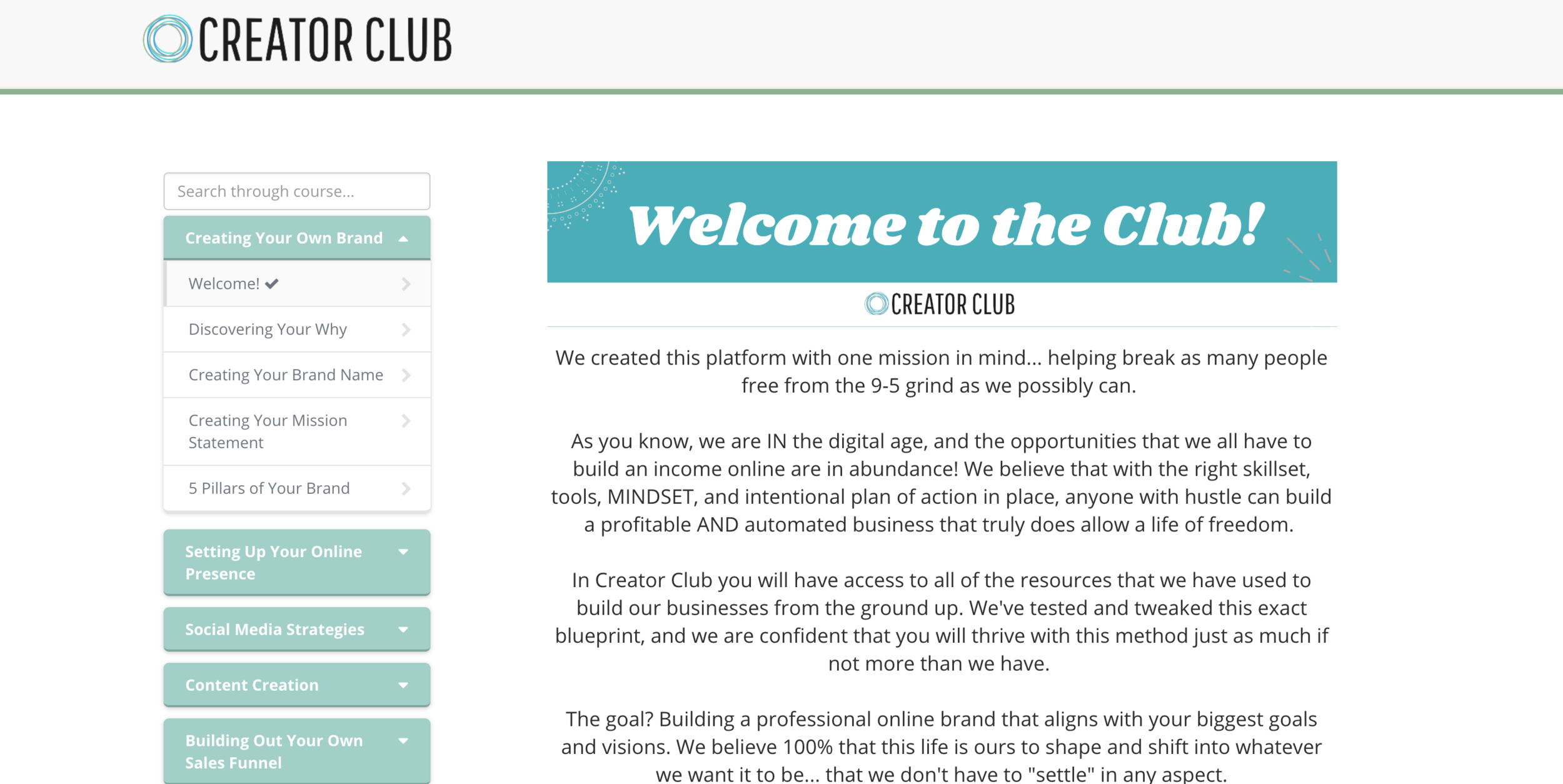 You'll get instant access to Creator Club. This includes details like:
how to create a brand online that you can actually make money with

how to build a professional website for only $18

mastering each social media platform (Instagram, YouTube, Facebook AND Pinterest)

setting up multiple passive income streams online so you can live life on your own terms
WHAT SOME OF OUR STUDENTS ARE SAYING
"Creator Club not only continuously expands my knowledge on each of these insanely profitable online skills, it teaches in a way that is extremely proactive. This program provides all the tools, training, and support you need, but it also requires you to level up and TAKE ACTION in a way that's totally authentic to you and your vision. It's added such abundance and positivity into my life, and for that, it's priceless! An investment in myself I'd make 1000x over. " - Kate
"Thanks to the training, I went from not making a post on Facebook in 6 Years, to completely running my own business using Facebook. As long as you have access to the internet using a phone or computer, you can run your own business from anywhere!" - Orry
"Creator Club has taken my low-key passion for photography and turned it way up. I've learned how to turn my hobby into something I can use to both help people as well as become financially independent. I've learned how to take high quality photos/videos and how to edit and market them to an audience that benefits from my work in order to grow my business online. It's seriously been a game changer." - Brooke
WHAT ELSE IS INCLUDED? HERE ARE THE DETAILS…
CREATING YOUR BRAND
CREATING YOUR BRAND NAME

5 PILLARS OF YOUR BRAND

FINDING YOUR NICHE AND YOUR AVATAR
SOCIAL MEDIA STRATEGIES
UNLOCK HACKS TO GROW YOUR INSTAGRAM ORGANICALLY

HOW TO RANK YOUR VIDEOS ON YOUTUBE

FACEBOOK & PINTEREST BEST PRACTICES
SALES FUNNELS
WHAT IS A SALES FUNNEL AND WHY YOU NEED ONE

HOW TO CREATE YOUR OWN PRODUCT

SETTING UP A SALES FUNNEL
SETTING UP YOUR ONLINE PRESENCE
THE PIXEL & HOW TO INSTALL IT

CREATING YOUR WEBSITE

GETTING A DOMAIN

SETTING UP YOUR SOCIAL PLATFORMS
CONTENT CREATION
HOW TO TAKE GREAT PHOTOS FOR SOCIAL MEDIA

MASTERING THE ART OF STORYTELLING

CREATING & EDITING PHOTOS ON YOUR PHONE
HOW TO MONETIZE
HOW TO CREATE PASSIVE INCOME THROUGH AFFILIATE MARKETING

SETTING UP MULTIPLE REVENUE STREAMS

LOW TICKET VS. HIGH TICKET OFFERS
1 in 4 PEOPLE MAKE MONEY ONLINE…
ISN'T IT TIME YOU WERE ONE OF THEM?
STOP THE GUESSWORK.
Get the details for ONLY $87
WHAT IF YOU GOT PAID TO BE ON SOCIAL MEDIA THIS YEAR?
Meet Sara & Alex James
Co-founders of Creator Club
Built a community of over 100k people worldwide

Made over $200,000 in 2018 with their brand by following this exact same process

Passionate about paying it forward to teach others how to use social media & get paid
THIS IS YOUR DEFINING MOMENT.
The decision is now. Join the Club.
FREQUENTLY ASKED QUESTIONS
IS THIS A PDF, EBOOK OR MEMBERSHIP SITE?

This is a lifetime membership site. After you checkout, you will set up an account that you can come back to access anytime.

DO I RECEIVE LIFETIME ACCESS TO CREATOR CLUB?

Yes! Your $87 purchase gets you lifetime access to Creator Club as well as all future updates.

IS THIS A STEP-BY-STEP program?

Yes! There are 6 different sections each with step-by-step videos that will walk you through all the details on how to get your brand set up online.

I'm not very technical. WILL I BE ABLE TO DO THIS?

That's OK! You don't need to have any tech skills. This is all about you learning the skill set, so we will teach you everything you need to know.